Swimming pools can offer many opportunities for fun and enjoyment. They are great for sports and other recreational activities and can be used all year round. However, they must be properly cared for in order to remain operational. An abandoned pond can quickly become a hazard. Swimming pools should be cleaned regularly and the water treated and replaced. It is always a good idea to cover the pool.
The main purpose of the protective layer, of course, is security. An uncovered pool can pose a hazard to unsupervised children, pets, etc. Keeping the pool covered can minimize the risk of accidental drowning. Pool incidents can happen in minutes, quickly and silently. Therefore, a pool roof enclosure is an important safety measure for any pool to which children or pets have access.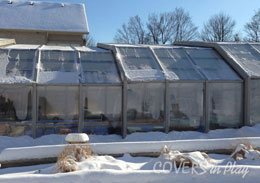 The cover also prevents leaves and other debris from getting into the water and keeps it clean. Multiple covers block out the sun, helping to minimize algae and microbial growth. Another benefit of safety covers is heat retention. Evaporation causes the rapid loss of heat and chemicals from the water. The lid can act as an insulator and help keep the water warm longer.
There are many different pool covers, each with its own benefits. A simple plastic cover isn't the most effective protective cover, but it can be very useful for keeping leaves and other debris out of the pool. This can help keep the pool clean for longer and effectively reduce maintenance costs. However, it cannot insulate and prevent the loss of heat or chemicals.
The most effective cover from a safety point of view is a cover made of solid material or netting. They are usually very strong and can be dragged across the surface of the pool if necessary. The modern safety cover is equipped with a radio lock. This means you can cover the pool by twisting and closing it securely. This is definitely the most effective type of protective covering.